West Coast Tour 2019
March 19

-

March 28

$2500
West Coast Tour 19th – 28th March 2019
$2500pp twin share. Single room supplement $500.
Outwest Tours – Coaltown Museum – Mitchells Gully Goldmine – Nile River Rainforest Train – Guy Menzies' Avro Avian Aeroplane Replica – Okarito – Lake Kaniere – Shanty Town – Monteith's Brewery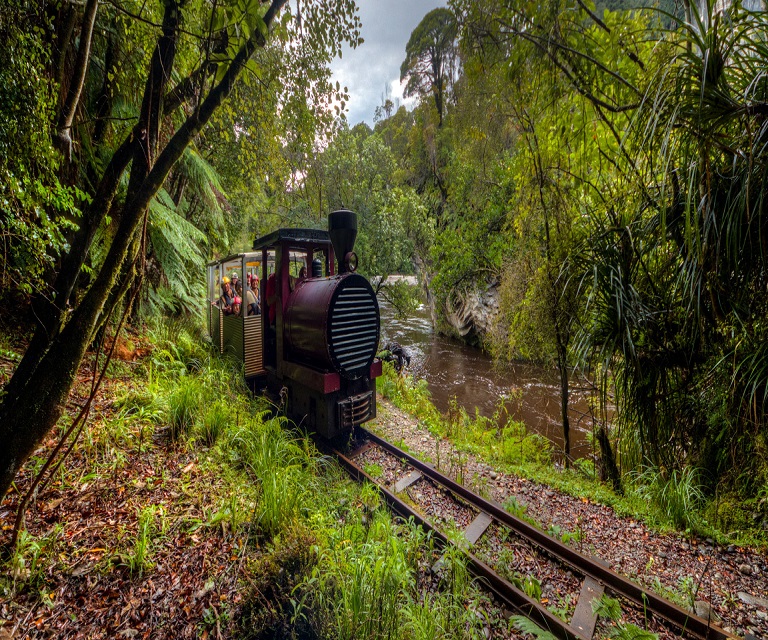 West Coast Tour 2019 Details
Includes travel on a quality touring coach, transport to and from your door, five-night's accommodation; all evening meals, all cooked breakfasts, all organised activities/attractions.
Day 1 – Tue 19th Mar
Nelson – Westport
Day one of this West Coast Tour we will do a door to door pick up before setting off for the picturesque West Coast. We take a leisurely drive over the Spooners Range, Hope Saddle and Buller Gorge as we make our way into Westport by mid afternoon. Here you will have time to relax or head up town before our evening meal at the hotel.
Day 2 – Wed 20th Mar
Westport
Day two will be a fun filled day in Westport with two activities/attractions lined up. We explore the wild West Coast of New Zealand today with Outwest Tours. This will be an off road 4wd tour which is a must do experience. We will be taken off the beaten track and into the heart of the land. We will also visit the Coaltown Museum which will give us great history on the gold rush days, the mining industry and of course the lifestyle and living conditions. Tonight will be dinner at the Denniston Dog Restaurant where if you haven't had enough history their memorabilia and photos give you an insight into the life of a Denniston Coal Miner.
Day 3 – Thur 21st Mar
Westport
Today is a free day in Westport. Use it as you please, catch up with friends and family from the area, browse the shops or go to a cafe, there is even a recreation centre with swimming pool if this is your thing.
Day 4 – Fri 22nd Mar
Westport – Hari Hari
We take a short 3 hour drive today, heading south to Hari Hari. On the way we will visit Mitchells Gully Goldmine. Here we will experience a unique and personal perspective of the regions gold mining history. We will explore old tunnels and enjoy the beauty of the glow worms. We will also visit and take a ride on the Nile River Rainforest Train. This is a short interpretative train ride in open carriages through primeval rain forest. From here we will continue on our journey and have an enjoyable evening meal at the hotel.
Day 5 – Sat 23rd Mar
Hari Hari
Day five of this West Coast Tour and this will be another busy day as we visit Guy Menzies' Avro Avian Aeroplane Replica. Guy Menzies completed the first solo crossing of the Tasman Sea in January 1931. He landed the single engine Avro Avian Aeroplane on swamp land near Hari Hari. We will continue on with a visit to Okarito and Franz Josef where we will have lunch. This will be a nice day out where there will be plenty of photo opportunities, so don't forget your camera.
Day 6 – Sun 24th Mar
Hari Hari – Hokitika
We take an hour's drive north today to Hokitika where we will spend the next two nights. Today we take a scenic cruise and see the beauty of West Coasts Lake Mahinapua. While taking in the scenery, enjoy the birdsong tranquility. The crew will tell us more about the history of the area while aboard this cruise. Please remember a wind proof jacket, warm clothing, a camera, sunscreen and hat for this trip. We will have an evening meal together at the hotel tonight.
Day 7 – Mon 25th Mar
Hokitika
We visit Lake Kaniere today, which lies 30km southeast of Hokitika and drains into the Tasman Sea. It is considered one of the best lakes for water sports in the region and the area is very popular with mountain bikers and trampers. Lake Kaniere is surrounded on three sides by towering mountains. This lake is the source of the Hokitika water supply where there is a small power station located closer to the town. Our evening meal tonight will be at the Stations Inn Restaurant.
Day 8 – Tue 26th Mar
Hokitika – Greymouth
A short trip north again today as we head to Greymouth where you will have the afternoon free. Greymouth is the largest town on the West Coast and there is lots to see and do here including a lot of galleries specialising in pounamu, shops for the shop-o-holic and plenty more. Dinner will be at the hotel tonight after a fun day exploring Greymouth.
Day 9 – Wed 27th Mar
Greymouth
As our West Coast Tour draws to an end we have a great day lined up. We will start with a visit to Shanty Town. Here you can ride a steam train, pan for gold, get an old time photo, discover the Sawmill and more. From here we continue onto the Monteith's Brewery Tour followed by an evening meal. This tour starts in the Beertopia Room which houses Monteith's very own Museum. Here you will get an introduction into the heritage and rich stories of the origins of Monteith's. You will continue through the brew house and packaging house led by an expert guide.
Day 10 – Thur 28th Mar
Greymouth – Nelson
After a lovely and interesting nine days spent on the West Coast, learning a lot and taking in what the West Coast has to offer it is time to head home and recharge our batteries before we meet again on a day trip or tour.
Package price per person: $2500.00
Single room supplement: $500.00
Deposit due: On Booking – $200.00
Final payment due: 1st March 2019
Please give us a call if you would like to book or if you have any questions. Minor details of the tour may change from that shown in this itinerary. If you have mobility issues that may concern you regarding getting on and off the coach please give us a call and we can discuss this. Please advise us of any special dietary needs. Door-to-door transport may not be available if you live out of the nearby Nelson region. The tour is subject to minimum numbers.
To register your interest in this leisure trip please fill out the form below.
We'll phone you the week before with your pick-up details. Thanks!
LEISURE TRAVEL GALLERY
View some great photos from our previous Leisure Travel day trips and tours!